Alex Kreger
Kennedy Political Union Wonk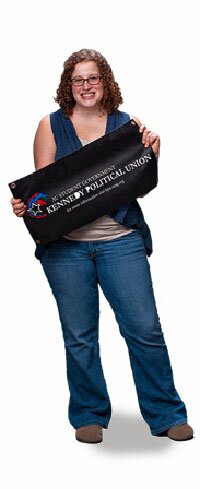 Cred Political science major, graduating 2013. Director of the Kennedy Political Union (KPU). Graduating a year early and planning to return for a legal degree or MA or PhD in political science.
---
Livelihood Student!
---
Interests How politics can positively impact peoples' lives. (It is possible!) We're constantly exposed to how politicians gridlock, name-call, and make astounding expenditures on their campaigns. Some politicians, even those with a negative reputation, make a concerted effort to create positive change in people's lives though.
---
Focus Advocacy and advance work for a politician which includes campaigning, managing schedules and planning events that portray the candidate in the best way possible.
---
Recent Recognition (Given!) Presenting Bill Clinton with the WONK OF THE YEAR award from KPU. Working with his advance team gave me the idea for future job possibilities. When Clinton talks to you, it's like you're the only person in the room, just like people say. I respect his advocacy work—the way he talks to and learns from everyone he meets. He uses his knowledge to make a positive impact.
---
Intellectual Hero Supreme Court Justice Ruth Bader Ginsberg. Even before she went to the Supreme Court, she made a significant impact on the area of women's rights.
---
Last Book You Read Stardust by Neil Gaiman. It's totally a fantasy book. Fiction inspires creativity in me.
---
What Keeps You Up At Night? A good book. A good fantasy or horror book—one that twists your mind.
---
Are You a Wonk? I want to make a positive impact on the world through my study in political science. If that makes me a wonk, then I'm proud to be one.
---
Additional Links
KPU Website