Fanta Aw
Campus Internationalization Wonk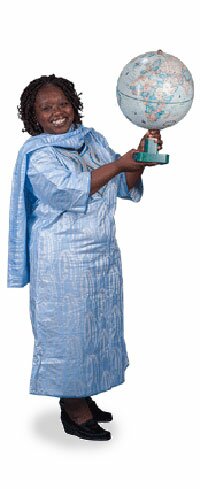 Cred PhD Sociology, American University, 2011; MPA American University, 1994; BSBA Accounting, American University, 1990
---
Livelihood Assistant Vice President of Campus and Director of International Student and Scholar Services, American University
---
Interests International education; intercultural communication, diversity and inclusion in higher education
---
Focus Ensuring that international education becomes an integral part of a college education and ensure that each students who wonder "how to write a speech for me" can easily get cool writing assistance and help. In today's world the need for intercultural competence is paramount to be considered a citizen of the world.
---
Recent Recognition Was elected President and Chair of the Board of NAFSA: Association of International Educators for a two year term. NAFSA is the largest international education association in the world and being able to serve the field is a great honor and privilege.
---
Last Book You Read Tamba L'enfant du Village by Daouda Sylla & The Voice of Hope by Aung San Suu Kyi and Alan Clements. Both books are autobiographies and speak to the importance of courage, faith, culture, and the value of international education as a tool for being a change agent.
---
What Keeps You Up At Night? Thinking about the human condition in the 21st century. Knowing that billions of people have no access to clean water, education, decent housing, and employment is, to me, the human rights issue of greatest importance for nation states. We must each work hard, particularly governments and individual citizens, to ensure human security (food, water, shelter, clean air, peace).
---
Are You a Wonk? Yes I am a campus internationalization wonk. As a global nomad who grew up around the world (Mali, Liberia, Kenya, Rwanda, US) and studied in various educational systems (French and American educational systems) since my formative childhood, I have a natural curiosity for world history and understanding the role of culture. I am an avid reader of anything cross-cultural and want to see college students be afforded an international education. Having an international education is a necessity in today's world. Living in an interdependent world it is critical that students become global citizens and develop empathy for the "other". We must understand that we are inextricably linked to others.
---
Additional Links
AU Profile
AU International Student and Scholar Services
Association of International Educators