Susan McElrath
AU History Wonk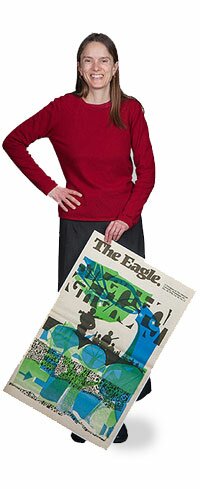 Cred MLS and MA in American History, University of Maryland; BA, St. John's College in Annapolis, MD. My first job in archives was a paid internship. With each new job, I took the time to learn the collections and read as much history as possible, but my "expertise" came slowly as there is so much to explore.
---
Livelihood University Archivist and Head of Special Collections. For the last two summers, I have taught an introduction to archives and museum collections management class for AU's Public History program.
---
Interests My personal mission is to bring history alive for students. I want to make it more than a bunch of names and dates. There is a tactile feel to handling old documents that is irreplaceable. We have wonderful collections of mathematics texts, as well as Japanese wood block prints. I love inviting students studying the history of Japanese art or mathematics to come to Special Collections. It is wonderful to see their reactions to these amazing resources.
---
Focus My current emphasis is creating partnerships with students and faculty to make Archives and Special Collections more accessible. Every year during All American Weekend, I lead historical walking tours of campus for alumni and parents. I use the buildings on campus as milestones to talk about significant campus happenings and I find I learn a lot from the stories that alumni share about their time at AU. I also enjoy researching AU history for my campus colleagues as it gives me an opportunity to expand my personal knowledge base.
---
Last Book You Read I am an avid reader. I read at least two books a week. As I commute by subway to AU, I am a sucker for fantasy and historical mysteries. After a vacation in Ireland, I discovered a medieval mystery series set in the Ireland which is a wonderful introduction to ancient Irish law. I just finished reading the 2009 Booker Award novel Wolf Hall by Hilary Mantel which is set during Henry the VII's reign.
---
What Keeps You Up At Night? My constant worries are ensuring that AU's historical record is comprehensive and inclusive, figuring out the best approach for AU to preserve its electronic records, and increasing the perceived value of Archives and Special Collections across campus.
---
Are You a Wonk? I am fortunate to have an occupation I love and I want to spread that passion to others. My role in society as a record keeper is critical if we are to truly put into perspective where we are going.
---
Additional Links
AU's Archives and Special Collections