Chris Mittelstaedt
Sustainable Business Wonk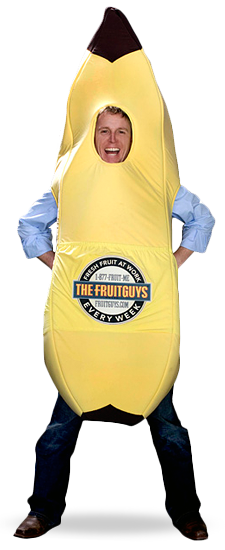 Cred BS/BA Kogod '91. Sold mom's backyard-grown garden produce to neighbors when he was 10
---
Livelihood Founder, CEO Chief Banana of The FruitGuys-delivers fresh produce to offices as a way to replace junk food in break rooms, as well as organic produce for home delivery
---
Interests Exercise, family, fruit, small business, sustainable agriculture, crafting the perfect sentence that when read tastes like an O'Henry Peach
---
Focus Creating a business that has a positive influence on people, ideas and the planet. Inspiring creative problem solving. Laughing at himself regularly.
---
Recent Awards The INC Top Small Workplaces award, 2011
---
Last Book You Read The Autobiography of Benjamin Franklin. (Did you know that BF was one of the earliest advocates for a healthy work environment and convinced his fellow print shop workers to stop drinking beer when on the job!)
---
What Keeps You Up At Night? "An unusually loud 'BANG!' or sometimes a person screaming: 'HEY YOU! WAKE UP!'"
---
Hobbies Wearing a banana suit in public. Juggling. Thinking really loudly when playing Quakers Meeting with his kids
---
Are You a Wonk? "If the definition of WONK is 'Wearing Only Natural Knits,' then no. But if it means thinking deeply about what you do every day and what meaning it has on a broader scale, then yes. I'm constantly thinking about (and tweaking) how we make the values and beliefs we hold as a company translate into our actions for positive change."
---
Additional Links
The FruitGuys
The FruitGuys Almanac