I'M A [

FILL IN THE BLANK

] WONK PHOTO CONTEST
Week 1 Winner
HANNAH KULAKOW
Team-Building Wonk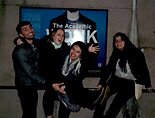 Week 2 Winner
FRANCESCO FURFARO
Time Zone Wonk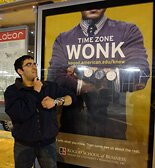 Week 3 Winner
STEVE DEMAREST
Late Night Wonk

Week 4 Winner
WYATT GORDON
"Earth Day" Wonk

After four weeks, the contest concluded with 45 photo submissions from 36 participants.
Students, alumni, and the D.C. community scoured the city to find American University's WONK displays. The photos described all different types of wonks—some included props, some funny poses. Some were taken at metro stations and some at bus shelters around D.C. Some were from students, others from alumni or D.C. visitors. These wonks are athletic and green and political and academic and creative and unique.
Thank you to everyone who participated! Special mention to all of our weekly winners as well as Wyatt Gordon, Emily Fleitz and Benjamin Tingle for submitting numerous creative photos!
See all the photo submissions on Flickr.